This Page is Best Viewed at 1024 by 768 pixels
Wendy Reich - Training and Experience
Wendy Reich is an experienced Licensed Independent Clinical Social Worker. She earned her Masters Degree in Clinical Social Work from Boston University in 1985. Previously, she worked as both an administrator and teacher in the field of education.
Ms. Reich has been providing individual, couples, family, and group therapy for children, adolescents, and adults.
She has worked with patients around a variety of issues including:
Anxiety

Depression/Anger

Difficulty with interpersonal relationships

Job pressures

Addictions, including alcohol, drugs, food, and sex

Eating Disorders

Sexual, physical, and emotional abuse

Phobias

Self-esteem

Gender Identity

Personality Disorders

Grief and Loss

Stress Management

Establishing a satisfying career

Post traumatic stress

Psychological issues related to medical problems

Parenting issues

Gay, Lesbian, and Bisexual issues
She has also facilitated groups for Survivors of Troubled Families and Adult Children of Alcoholics and Friends and Families of Suicide Victims.

What Can I, Wendy Reich, Uniquely Offer As a Therapist?
A willingness to participate in a dynamic, collaborative relationship with the patients with whom I work based on mutual respect.
An interest in developing patients' intelligent curiosity: I'll answer your questions!
A respect for and a willingness to work with patients around their feelings including work with anger.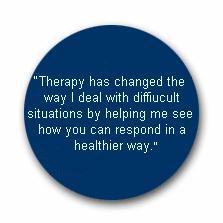 What Patients Have Said About the Therapy Wendy Reich Offers
-She is able to utilize her life experience in helping patients gain insight
-She is direct, open-minded, compassionate, and easy to understand.
-She offers an active, dynamic approach to therapy providing feedback.
-She is willing to talk about herself when it is helpful.
-She helps patients feel strong and independent.
-She offers challenging ideas to help patients change their life.